Lighting
L.E.D. Recessed and conventonal lighting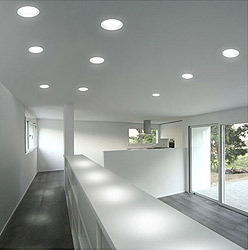 We provide lighting services for both residential and commercial clients in Hampton Roads, VA. Our services range from replacements, installation and controls.
Efficient upgrades, low current lighting is now affordable for many home owners. You can save hundreds even thousands per year by converting your space to the latest technology to conserve energy while brightening your environment. Custom lighting enhances normal dull decor to an ambiance that is pleasing to the eye.
Residential Lighting Services
Our professional technicians can provide the following services, among others, to your existing or new home.
All Purpose Lighting
Whether you have a living room, garage, bedroom or driveway you want lit, we can provide you with quality service.

Kitchen Lighting
Well designed kitchen lighting can bring to life an existing kitchen and make a newly remodeled space look multi-dimensional.
Bathroom Lighting
The lighting in your bathroom can change everything from the mood to the space.

Pool Lighting
Your pool is meant for relaxation. Lighting the pool will create a better entertainment experience.

Landscape & Outdoor Lighting
Having quality outdoor lighting can dramatically change the atmosphere of your yard.

Security Lighting
By simply installing lighting on your property, you can enhance the overall security of your household.

Lighting Controls
Controlling your lighting is important for easily changing the mood in a room or just simply making it more convenient to switch a light on or off.

Lighting Repairs & Preventative Maintenance
Just like any other household appliance or electrical system, you should keep up with maintenance to ensure longevity and a good living experience. We provide repairs & preventative maintenance to give you peace of mind.
Commercial Lighting Services
Scheduled & Preventative Maintenance
Parking Lot Lighting
Parking Garage Lighting
Exterior Building Lighting
Office Building Lighting
Lighting Repairs & Preventative Maintenance
Our service technicians are here to help you by providing repairs and preventative maintenance. These services will give your lighting longevity and ultimately a better, happier experience. We can fix lighting controls, existing lighting and even electrical components related to your lighting fixtures.