Generator SALES, INSTALLS, AND SERVICE
Be prepared for that next power outage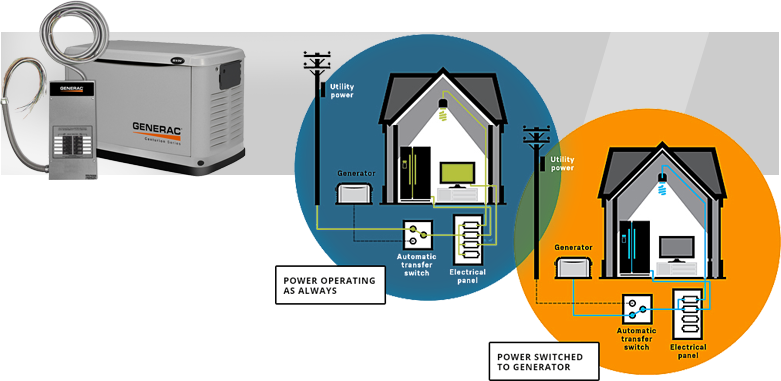 Power outages on the east coast are very common. Keeping the lights on is more affordable than most people think.
Allaround Electric will offer you the best option based on your residential layout, from small generators that you can manually switch over to keep your refridgerator on, to whole house auto switch over installations.
Generator Installation Ensures Peace of Mind
A professionaly installed generator not only brings your home value up, but it also brings piece of mind should an unfortunate event ever occur.
Allaround will make sure you do not get too much or too little in terms of a generator installation.
Request a Generator Installation Quote
Questions you may or may not get asked during the survey:
How much equipment or how many appliances do you need to power in case of an emergency?

Will you need to maintain electricity to large items such as a furnace or an air conditioner; or is your goal to power appliances that can be plugged into an outlet?

Would you like your generator to start automatically when a power outage first registers?

How important is it to maintain internet and or powercomputers, home electronics or other electronics?

Do you have a budget in mind? Is price a primary concern?
WHAT HAPPENS DURING A POWER OUTAGE?
QUICK QUOTE
1

We will contact you within 24 business hours to schedule the survey.

2

Survey day, we will go over your best options based on your needs.

3

Permits are obtained and generator installation starts.

4

Allaround Electric will educate you on the operation of your brand new generator.

FAQs
No. Your new generator should only be used as needed during times of total power failures. A generators main purpose is to keep essential appliances going like your refridgerator.
Servicing
Chesapeake, Norfolk, Portsmouth, Suffolk, Virginia Beach, Hampton, Newport News, Poquoson, and Williamsburg
Client Testimonials
I was going to install my new ceiling fan myself, calling Allaround was the best thing I ever did, looks great, works great! William Chenoweth
- Chesapeake

Thanks for transforming my kitchen into a whole new place. The LED accent lighting turned out amazing. Thank you for taking the time to listen to my ideas! Justine W
- Virginia Beach
© 2022 Allaround Electric | All Rights Reserved